Sundance - A Festival Virgin's Guide (3rd Edition)
By Benjamin Craig
< Back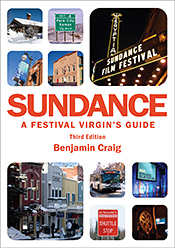 filmmaking.net rating
★★★★★
Independent film at 7,500 feet! January in Utah - for 10 days, the normally sleepy mountain resort of Park City becomes the focus of the movie world as 40,000 people descent on the town to sample the year's finest independent films, do a little business, and partake in all that is the Sundance Film Festival.

Sundance - A Festival Virgin's Guide is the essential handbook for filmmakers, film industry professionals, and film-fans looking to attend the festival. Demystifying the event and providing practical advice for attending, Sundance - A Festival Virgin's Guide is about helping you make the most of your visit to Park City and America's most important film festival.

Features include:

THE CITY - getting there, getting around, places to stay, places to eat, and more;

THE FESTIVAL - its history, structure, how to attend and all about the screenings;

THE BIZ - an overview of the business side of the festival, for filmmakers looking to attend Sundance for networking or with a project in tow;

THE LOWDOWN - a series of interviews with Sundance veterans from across the industry spectrum, offering their advice and tips;

SIX APPENDICES containing a wealth of additional information.
< Back