Show Me The Money - European Audiovisual Observatory Cannes Workshop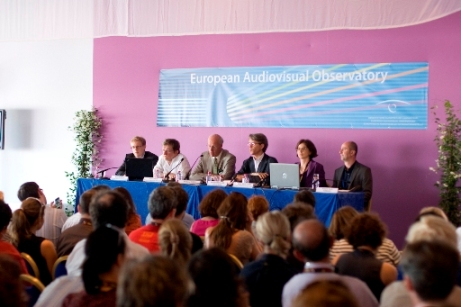 The European Audiovisual Observatory was looking after the cash at the Cannes film market this year with its SHOW ME THE MONEY workshop which took place on Sunday 17 May 2009.
Those of you who missed the workshop can now catch up in the comfort of your own office as the film of the workshop is now on line.

The workshop dealt with various finance-related issues of importance to the film industry:
Remuneration issues for rightsholders and the role of collecting societies
Eurimages and the use of collecting agencies
Monitoring film circulation along the value chain
Panel discussion: Future thinking on regulation, business models and contracts
Over 350 film professionals crowded into the Palais des Festivals to hear the Strasbourg-based Observatory's latest legal and market information.
About the European Audiovisual Observatory
Set up in December 1992, the European Audiovisual Observatory's mission is to gather and distribute information on the audiovisual industry in Europe. The Observatory is a European public service body comprised of 36 member states and the European Community, represented by the European Commission. It operates within the legal framework of the Council of Europe and works alongside a number of partner and professional organisations from within the industry and with a network of correspondents. In addition to contributions to conferences, other major activities are the publication of a Yearbook, newsletters and reports, the compilation and management of databases and the provision of information through the Observatory's Internet site.
Comments