The Cannes Film Festival For Beginners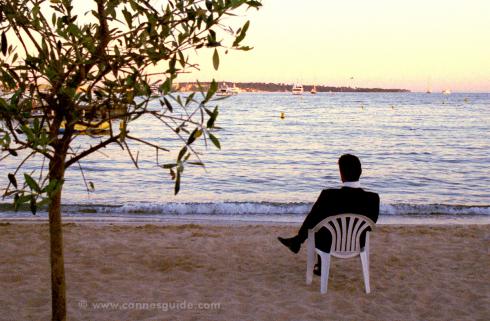 The Cannes Film Festival. The mere mention of this event conjures up images of red carpets, glittering premieres, and of course celebrity parties. Each year, the population of this small French town virtually triples overnight as movie fans, filmmakers, and of course the press, descend on the Riviera for a taste of the world's most famous film festival. But if you're a filmmaker, there's also a good chance that you've been told somewhere along the way that the festival is one of the most important business events of the year. So what's it all about?
Well, Cannes may indeed be the most famous film festival on the planet, but behind all the glitz and glamour lurks the largest film market and industry get-together there is. While the public is star-gazing and the critics are toasting the success of the festival films, the rest of Cannes is abuzz in a frenzy of networking and deal-making. For 12 days virtually the entire international film industry is jammed into a square mile of the French Riviera, and everyone in the industry wants to make the most of it.

For newer filmmakers, attending the Cannes Film Festival for the first time can be one of the most rewarding things you do for your career. It offers perhaps the best opportunity to lift the lid on the global film industry and gain deeper understanding of just how it all works. In 12 days you'll see the full spectrum of what the industry has to offer; from lofty auteur pieces through to films whose very existence defies any commercial logic (e.g. many a Cannes regular keeps an amused eye out for the next instalment of the seemingly unstoppable "Air Bud" franchise). But most importantly, you will come to the understanding very quickly that in Cannes, film is a product to be bought and sold just like any other. As one producer described it recently, "They could be selling staples."

This in-your-face commercialism clearly suits to the role producers play in the filmmaking process; and for anyone interested taking their career in that direction, Cannes is perhaps the best education you can get. However, with the global industry all in one place, Cannes is also a rewarding experience for those whose career is significantly influenced by networking. With so many people in town opportunities to bolster your contact network are plentiful, particularly for writers and directors. But before you pack your bags and book a flight to the Riviera you need take a moment to prepare your trip – particularly if you're looking to hit Cannes for anything other than an education and some R&R.

Festival access is restricted to film industry professionals so the first step of your preparation should be arranging festival accreditation. The process is managed by the Festival de Cannes and accreditation comes in two main flavours: Festival (free) and Market (fee-based). In general, Festival accreditation is the preferred route for newer filmmakers; however you must be able to prove you're a "film industry professional." Market accreditation is a useful alternative if you have an established company which clearly operates in the film industry. Either way, without accreditation it's difficult to get the most out of the festival.

Once you're accredited, it's essential to figure out your game plan before you arrive in Cannes. How you prepare will largely depend on what you're looking to achieve from your trip. Most people in Cannes will be extremely busy. If you're seeking representation for your film, looking to drum up interest in a work in progress, or even trying to sell a film yourself, you need to make sure any opportunity to discuss the project with someone is used wisely. It's worth remembering that as Cannes is the world's largest film market, everyone's attention tends to be focussed on finished films. It can therefore be difficult to generate significant interest in scripts or works in progress unless there's named talent attached. But this doesn't mean you shouldn't head to Cannes – you just need to keep your expectations in check about what can realistically be achieved from your visit. Pitch to relevant parties, but don't expect to arrive with a script and a vision and leave with a fully-financed project – it just doesn't happen.

The other essential piece of preparation is of course finding somewhere to stay. Accommodation in Cannes during the festival is notoriously difficult to obtain, particularly for a reasonable price. All the hotels will only take bookings for the entire 12 days, so most independent filmmakers tend to either form small groups and rent a villa, or make use of the ultra-cheap campsite option.

Once you arrive in Cannes you'll find most of the action centred around the Palais des Festivals – a massive conference centre on the seafront in the middle of town. Outside on the beach next door lies the International Village – a veritable tent city containing pavilions of various companies and national film organisations. The International Village is a great place to escape the throng, meet fellow filmmakers, and enjoy a cappuccino on the beach. The UK Film Centre is an obvious draw, but don't discount the other pavilions, particularly if you're looking to meet contacts from other countries.

Finally, remember that Cannes can be a fun, but intense experience so it's important to stay focussed. Long days, late nights (and potentially quite a lot of booze) can take their toll so pace yourself and stick to your agenda. Don't lose sight of why you are there and what you're looking to achieve.

Pearls of Wisdom

• Don't waste time meeting organisations from home. You can visit the UK Film Council et al any time! Concentrate on trying to meet foreign organisations.

• Don't spend the whole time hanging out with your cast/crew/friends. You'll definitely want to share some of the experience with your mates, but make sure you're meeting new people too.

• Always take two pairs of shoes: the first should be your most comfortable pair – to give you feet some consolation for the all the running around; the second should be your most glamorous pair to match your black-tie evening wear for the red carpet screenings.

• Those who go to bed early lose out. The best networking opportunities exist at night so you need to be out and about. Parties and bars are the order of the day, and remember that all roads lead to the Petit Majestic bar in the wee hours. You can sleep when you get home.

• Realistic expectations. Contrary to popular belief, careers are not made overnight in Cannes – but by attending you are definitely taking important steps to building one.

Benjamin Craig is Editor-in-Chief of filmmaking.net, and author of "Cannes – A Festival Virgin's Guide", the leading handbook for filmmakers and film industry professionals looking to attend the Cannes Film Festival for the first time. For more information on attending the festival, visit www.cannesguide.com.

Comments