Review: Directing Motion Tour with Vincent Laforet Bundle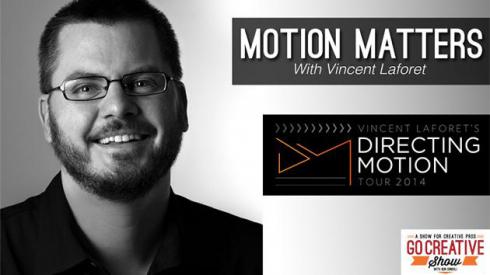 Filmmaker education has been a cottage industry for many years. There are a plethora of books on the subject and thousands of film schools around the world offering training in every aspect of the craft. But forging a career as a filmmaker is an individual path - no two people share the same route in. And while film school and film literature will be right for some, there's also plenty of room for self-guided education using material from experts.
Directing Motion Tour With Vincent Laforet is a bundle of videos of workshops conducted director Vincent Laforet across the country, presented by MZed, a specialist provider of online training for the creative industries. Using a plethora of examples from well-known films, the series provides a fascinating insight for directors into the importance of movement in cinema language and how to apply the concepts into practice to your work. In addition, Laforet provides guidance for new directors on key concepts such as writing treatments, pitching, storyboarding, locations, schedules, and budgets.

The bundle itself over 6 hours of instruction, broken down into eight 'episodes', covering Laforet's Movement and Directing Workshop and Applied Theory Seminar.

Laforet's teaching style is confident and down to earth. He's a natural presenter and, unlike some other filmmaking trainers, succeeds in engaging his audience in refreshingly non-evangelical manner. He's clearly knowledgeable and passionate about the subject. The format for video is effectively a transcript of the workshop Laforet conducted in person, however each has been professionally post-produced to be effective in this stand-alone format. Videos are delivered as Quicktime download (.mov, HD 720p) with a total size of about 7GB. The bundle costs $349.00 and is available from MZed.



Comments