Recommended Read: 'My Indecision is Final' by Jake Eberts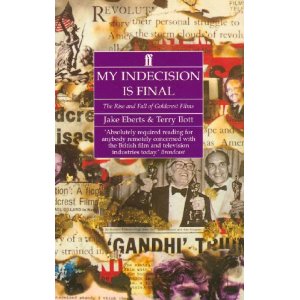 Jake Eberts, who passed away last week at the age of 71 from complications related to a rare eye cancer, was a legendary and prolific British producer, responsible for a string of successful movies over a period of 30 years. He leaves behind an body of work including Oscar-winners such as Ghandi, The Killing Fields, Chariots of Fire, Driving Miss Daisy, and Dances With Wolves, and in later years Chicken Run, James and the Giant Peach, and March of the Penguins. And unusually for a producer, Eberts was widely regarded by all who worked with him right up until the last.
The movie world will certainly miss Eberts' gentlemanly approach to producing, but aside from his film legacy, Eberts also left us one of the best books written so far on the business side of the film industry. For nearly 20 years, Eberts ran one of the UK's most successful production companies, Goldcrest Films. In the early 80s, Goldrest rose to deliver a string of hits which reached both Oscar and box-office gold. But after Eberts was edged out as a result of some fairly underhanded politicking, the new management placed a series of ill-conceived bets on big budget films which failed to deliver. And despite swallowing their pride and parachuting Eberts back in at the 11th hour, the company collapsed in a smoking heap. The Goldrest journey is documented in Eberts' book, My Indecision is Final, and provides a candid and thoroughly educational look at part of the film industry which all filmmakers should understand, but is notoriously opaque to those outside. And despite being written in the early 1990s, about stuff which happened in the 1980s, the material is as relevant today as it was when penned.

A highly recommended read. Get it from Amazon.com or Amazon.co.uk.
Comments