Book Review: The Guerilla Filmmaker's Pocketbook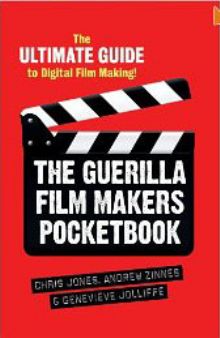 The Guerilla Filmmaker's series have been a staple of the indie guide bookshelf for over a decade now, and the winning formula of down to earth advice from real world industry people as lead to sales of over 100,000 copies. The latest edition of the guide has been reformatted to be "pocketbook" sized (although we're not exactly sure why?), but comes packing the same wealth of information as its larger scale cousins.
Since the beginning, the Guerilla Filmmaker books have focussed predominantly on a format which involves breaking down the filmmaking process into its constituent parts and interviewing industry professionals who work at each stage of the process. This approach has always worked well and is one of the main differentiaters between the Guerilla Filmmaker's series and the multitude of other books on the subject of independent filmmaking. And it helps you quickly realise that, while the top-line process may be the same for all, the detail by which each individual film is delivered is almost entirely unique. Having real professionals talk about their real world experiences provides, well, the most real view there is.

The Guerrilla Filmmaker's Pocketbook steps through the main stages of filmmaking, from screenwriting, through planning, production, and the ever-changing minefield that is post. Separate chapters on Festivals & Distribution, and a series of independent film case studies round on the book, although like most in the industry, the authors do struggle to come up with anything new or compelling when it comes to looking to the future of film distribution. But this is a problem which continues to dog the industry as a whole and has few simple solutions. So if you're a new filmmaker looking to get up to speed on the realities of the industry in a quick and no-nonsense manner, the Guerilla Filmmaker's Pocketbook is a worthy addition to your library, if not your pocket.

Buy from Amazon.com - The Guerilla Film Makers Pocketbook: The Ultimate Guide to Digital Film Making!
Comments