Filmmaking Stuff: How to make, market and sell your movie without the middle-man.
By Jason Brubaker
< Back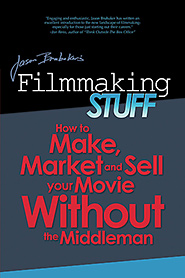 filmmaking.net rating
☆☆☆☆☆
The future of filmmaking is not Hollywood. It is the thousands of Filmmakers empowered by the digital revolution.

In this filmmaking book, YOU will find out how how to get the script, use crowdfunding to raise the money, make the journey from screenplay to screen, distribute your movie, and then build an audience eager to see your next movie!

You will find out out how to leverage new tools such as crowdfunding, social media, internet marketing for filmmakers and modern movie distribution to get your movie seen and selling.

Take action. Make your movie now!
< Back