Getting Your Short Film Funded, Made and Seen
By Tricia Tuttle (editor)
< Back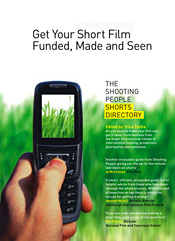 filmmaking.net rating
★★★★
☆
Shooting People, the UK-based filmmaker community (with a New York offshoot), made a name for itself in the film book publishing world a few years back with the excellent UK Film Finance Handbook. This time around the Shooting People team have taken aim at the world of short filmmaking.

Shorts have of course been the career vehicle of choice for many filmmakers for years. Shorts offer a way to learn skills, build experience, and showcase talent. Digital technology has made making shorts easier than it ever has been before and is providing new ways to bring short content to an audience. In the past learning how to make shorts has largely been about trial and error, and learning from previous mistakes – until now. "Getting Your Short Film Funded, Made, and Seen", edited by Tricia Tuttle, is... well, as the title suggests, a book that covers all of the key aspects of making short films today. And it's an invaluable resource.

The structure of the book adheres very closely to the same process you will need to go through as you take your short from concept to completion (and beyond). From idea definition and script writing through funding, pre-production, production, post, and ultimately what to do with it when you're done, each section is complimented with a directory of useful organisations and services. The book also is packed with practical tips for each stage of the process and, just as importantly, how to avoid common pitfalls that trip up short filmmakers. But although the tips come thick and fast – from how to audition your actors, through advice on choosing a DV camera – the real value in this book comes in the form of the interviews with experienced filmmakers and industry professionals who offer the type of insight into the process that is only available from those who have either done it before, or work with it all the time. There's only one thing better than learning from your own mistakes – learning from those of others. Oh, and perhaps hearing about the reality of short film landscape today from people who work in this sector of the industry every day.

If you've made a couple of shorts on your own already, or think you might dive into your first production, reading this book first will exponentially increase your chances of success. The only thing we'd add is that with Shooting People being a UK-based organisation, the book inevitably has a British slant, particularly when it comes to discussing funding options and providing organisational contact details. That said, those sections only account for a small part of the overall book, the remainder of which has a huge amount of relevance to those looking to make shorts outside of Britain as well.
< Back