Win a Development Deal with IFC and Red Bull
By | 07-Mar-2008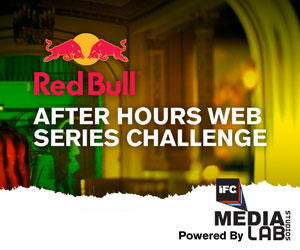 On Oscar Night did you rush back from the day job to spend your "after hours" watching the stars on the red carpet, wishing it could be you? Or maybe your "after hours" are spent editing your latest short film, wishing that you could just get it out there? If you are a talented filmmaker with a short film that could be made into a series of short web-based episodes, then you need to read this.
The After Hours Web Series Challenge from the IFC's Media Lab Studios, is a fantastic opportunity for filmmakers to get a foot in the door by signing a professional development deal. Working with the concept of "after hours" they are looking for pilots and trailers that could be made into a series – with you as the director, writer and producer.

They want fiction shorts so you can really let your imagination go wild on what people do after hours: that man in the suit, is he really a male burlesque dancer after he clocks off? Or maybe that punk likes to relax by listening to choral music in her "me" time. Or what happens to a location after hours… or an object... or time itself? And think about how the story could be developed further, into future episodes. But remember to keep it simple, the winning entry will most likely be shot in your home town or in the city of IFC's choosing, either LA or NY. And try to avoid budget busting special effects and stunts!

This isn't an advert for Red Bull, they really want to see story driven short films that could be developed into a series. Media Lab Studios' mission is to get great content out there by great filmmakers like you - and potentially pay you for it!

Submitted films can be no longer than 6 minutes long, and to enter you simply go to www.ifc.com/redbull, read the rules and FAQs, and then follow the steps to upload your film (although please note that this time around the competition is only open to filmmakers based in the US). Films previously submitted to Media Lab are also eligible as long as they are resubmitted under the steps on the site. So don't worry if you think you have the perfect film already in the can, send it in.

And the deal? A development fee of $5,000 for the rights to your film, a $1,000 writing fee to work on the series, and a producer's fee... And if that isn't enough then think about your name shining brightly in the credits... and being interviewed for the "making of" documentary series that will appear on IFC and the web!

So the next time you are wondering what to do with your "after hours"; stop thinking and get working on your entry for the After Hours Web Series Challenge.
Comments