How to Film Safely at Height
By Leila Jones | 16-May-2017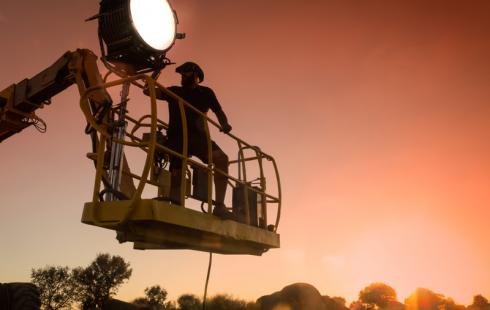 There is no doubt that filming at height allows you to create beautiful shots that would be impossible to get with your feet on the ground, but it also comes with an element of danger. You could fall, or you could drop something and it hits a person below. In some cases, you might get stuck and the rescue services can't get to you. For that reason, it's incredibly important to take into account health and safety when you're working at height. You'll need to create a plan of action, measure the risks and take action to prevent them.
Regulations in the US
When filming from height, you must follow the regulations set out by the country's health and safety department. For example, in the US, you must follow OSHA, the department of the United States Government that looks after health and safety in the workplace. Here is a short rundown of their regulations for working at height - you can find more information online.

A four feet guard railing must be installed around every elevated platform. If this isn't possible, the person using the platform must wear a harness. You can also use other safety provisions like nets and handrails.
You don't have to use fall protection for a portable ladder, but fixed ladders of over 20 feet must be equipped with cages.
All workers working at height must have the correct training. You must also have a fall protection plan in place, and ensure that all employees understand it.
Regulations in the UK
In the UK, you must follow the Work at Height Regulations 2005. The member of the film crew who is in charge must ensure that all work at height is properly planned, supervised and carried out by trained professionals. You should avoid working at height unless it is absolutely necessary and carry out a risk assessment which presents the hazards and discusses how you can avoid them. Here are some things you should know about filming at height in the UK:
You can perform low-risk working at height tasks that take less than 30 minutes if you have been shown how to correctly use the equipment - you don't necessarily need working at height training.
You must place a guard rail around a platform at height, as well as ensuring the worker is working protective equipment, like a harness.
Camera operators working at height should be protected by scaffolding which has been put up by a professional contractor.
Equipment should be secured to the scaffold to reduce the risk of equipment falling on to the ground below.
Regulations in Australia
When filming in Australia, you must follow the Safety Guidelines for the Entertainment Industry, which have been set out by the Australian Entertainment Industry Association and the Media Entertainment and Arts Alliance. As with other countries, a risk assessment has to be carried out before you can go ahead with filming. Here are some pointers about filming at height in Australia:
You must check that all harnesses and other fall devices have been manufactured to Australian standards.
Mobile platforms should be used where there is potential for people to fall more than 1.8 metres.
You must wear appropriate footwear and tie hair back to prevent slipping.
If you are using a scaffolding structure, any unauthorised changes to it not approved by the contractor are illegal.
Regulations in Canada
In Canada, you must adhere to the Regulation for Construction Projects when you are installing/removing sound and lighting systems during film production. When filming is taking place, you should follow the Regulation for Industrial Establishments. Here are some guidelines for best practice in Canada:
The best option to prevent falling from height is a guard rail. If this isn't possible, you should use a fall protection system like a harness.
A worker who is using a fall protection system should be adequately trained and given the knowledge to care for it and use it properly.
Training records must be kept, and handed over to the Ministry of Labour upon request.
Regulations in Europe
In Europe, filmmakers must work to guidelines set out by the European Agency for Safety and Health at work. You must start your project with a risk assessment, and throughout filming, properly maintain any equipment which is used for working at height. Here are some tips that you should know about filming at height in Europe:
If the use of equipment involves a specific risk such as falling from an elevated platform, use must be restricted to people who are fully trained to use it.
Where possible, written instructions should be placed on the equipment and workers should be made aware of any dangers relevant to the equipment.
Personal protective equipment must be worn at all times, and if more than one item is required, they must be fully compatible.
Of course, there are filmmaking situations where it may not always be possible to adhere to the local Government regulations. If you're filming wildlife in the jungle, for instance, you're not going to want to use a noisy access platform for fear of disturbing the wildlife. Instead, you'll have to work with your surroundings, like the trees. You can use a chair hoist, install remote HD cameras in hard-to-reach areas and place a filming platform in a tree. UK company
Canopy Access
are pioneers of this, having worked on many nature documentaries such as Planet Earth. If it's your first time filming from height in a remote location, you may want to seek advice from a company like Canopy Access.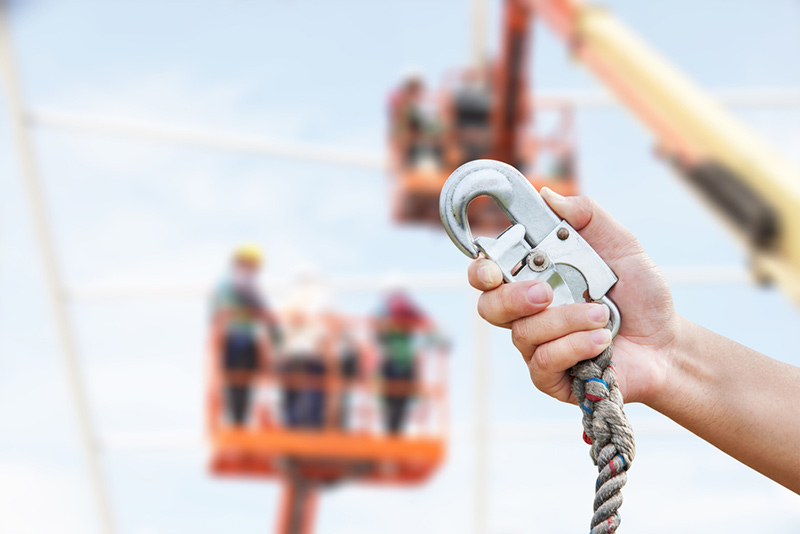 Risk Assessments
Whether you're filming at height or not, you'll need to develop a risk assessment for every shooting location. You need to identify all the possible hazards, evaluate the risks and put measures in place to control them. You must make sure that every member of the crew has read the risk assessment and understands their role in preventing the risks from occurring. A prominent potential hazard that comes from filming at height is manually handling heavy equipment at height. You can eliminate this by using a crane or a hoist to carry the equipment.
Filming at Height
You should avoid filming at height alone or unsupervised. If your location is a public place, you should place notices around the venue warning the public that there are people working at height, and creating a safe space below. The members of the crew working at height should wear a hard hat and a visibility jacket. There should always be an alternative escape route, such as an
access platform
, and the platform should be constructed by someone who has been trained to do so.
It's always tempting to film from height to get the best shot possible, but you should never do this unless a risk assessment has been completed and the safety precautions in place. Always allow space in your budget for preventative measures such as access platforms, hard hats, harnesses and visibility jackets.
Comments