Technicolor Adds Final Cut Pro X Support to Color Assist
By John Snedigar | 09-Apr-2013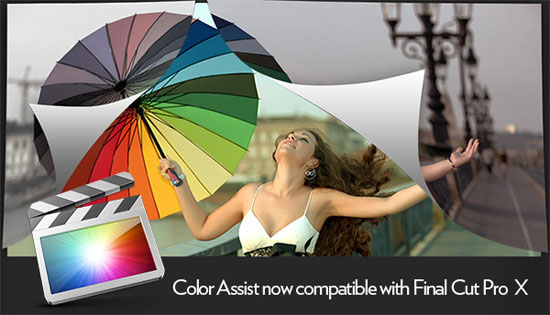 In late 2012 Technicolor released Colour Assist, a grading package drawing on the company's multi-decade experience in working with colour in motion pictures. The new version announced today brings with it support for Final Cut Pro X users.
Here's the full press release:

Technicolor, a worldwide technology leader in the media and entertainment sector, today announced that its Color Assist video color correction and grading software is now compatible with Final Cut Pro X. Since becoming available in late-November 2012, Color Assist quickly amassed a loyal following among aspiring video enthusiasts seeking a professional-grade solution that is both powerful and easy to use. As mainstream adoption of Color Assist continued to take hold in early 2013, Final Cut Pro X users became increasingly vocal about their desire for Color Assist, and Technicolor is happy to offer its software to this important group.

Color Assist draws on Technicolor's deep heritage in color science to bring powerful studio color effects and color correction to users who want professional-quality results without a Hollywood-sized budget. Color Assist comes with 25 Looks designed by Technicolor studio colorists, each designed to capture a certain genre, effect or style of film making. Users can select and apply these Looks and view them in real time, greatly simplifying the creative process. And for users seeking even more inspiration, additional Color Assist Looks packages are available for purchase. Color Assist Looks: Movies lets users recreate classic cinema, while Color Assist Looks: Extreme is suited for users who want to push the boundaries even further and create a final product as striking as it is inventive. This ever-expanding library of distinct Looks lets videographers, hobbyists and other video enthusiasts speed the coloring process tremendously and open the door to experimentation.

For users who want to use color to tell their story, Color Assist offers advanced color correction and grading tools, including a 3-Way Color Corrector, Key Selector & Curves Adjustments.

Based on Technicolor's award-winning DP Lights™ System, Color Assist gives users the ability to save up to nine Color Compositions per video clip. This non-destructive color correction and grading allows users to experiment freely to achieve their desired look without any degradation of quality.

Color Assist is currently available for both Mac and PC users. Technicolor offers support for a growing list of video production suites, including Final Cut Pro 7, Adobe Premiere Pro CS5.5 & CS6, and now Final Cut Pro X. The company is committed to making Color Assist available to an even broader universe of users, with further announcements expected in the second quarter of 2013.

Pricing & Availability
Color Assist is available for purchase immediately with support for Final Cut Pro X, Final Cut Pro 7 and Adobe Premiere Pro CS 5.5 & CS 6 on Mac OS, and Adobe Premiere Pro CS 5.5 & CS 6 on Windows for $99 USD at www.technicolorcinestyle.com. Existing users can receive a free update that includes Final Cut Pro X support, and new users can download a free 7-day trial of Color Assist. Additional Color Assist Looks packages can be purchased for $19 USD and include 10 additional custom-created Looks per package. Join Technicolor's Color Assist online communities on Facebook and Twitter to keep current on product news and updates.

Comments