How To Move from Photography to Cinematography
By Xavier Burgin | 14-Sep-2012
During my time as an undergraduate in college, I used my skills as a photographer to garner extra revenue whenever possible. This revenue would flow back into my main area of expertise and passion, film. The skill set of a photographer is quite invaluable on a film set. A creative eye for positioning, shot placement, lighting, lenses, and filters is essential when creating the atmosphere of a film, yet there must be something more within an individual than just the superb skill set of a photographer.
Now, as a graduate student at The University of Southern California (USC), I'm pursuing my fascination of film through the lens of photography's counterpart within the industry. This is known as cinematography. A photographer and cinematographer share many similarities, yet their necessary skills starkly contrast upon further investigation. A photographer may not be a strong cinematographer, but a good cinematographer must always be a strong photographer. In this article I'll provide you with a few tips on how to use your photography skills to develop your cinematography skills.

1. Your Artistic Eye Must Move


I recently worked on a short film known as DO.
When I direct, I tend to shy away from working other important positions. This led me to hire a cinematographer. He is known as the director of photography or DP on set. The DP is tasked with producing the visual aesthetic the director wants on screen. He manages this task by creating the desired lighting set up, supervising the grip/gaffer crew, and setting up the shot.
A Director of Photography must retain many of the familiar skills seen in strong photographers. Most importantly, his artistic eye must be able to compensate for movement. Unlike photographers, who tackle movement within a single shot, a cinematographer must create a strong visual aesthetic for periods of seconds or minutes. Actors will pivot, gesture, and if the scene demands it, move from one spot to another. A photographer transitioning into a cinematographer cannot see his role as capturing a photograph. Instead, he must consider himself capturing a scene.
2. You Must Work Well With Others
I've met my share of photographers who enjoy the solitude of work. The idea of anyone being at a shoot besides them, the model(s), and an assistant makes them uncomfortable.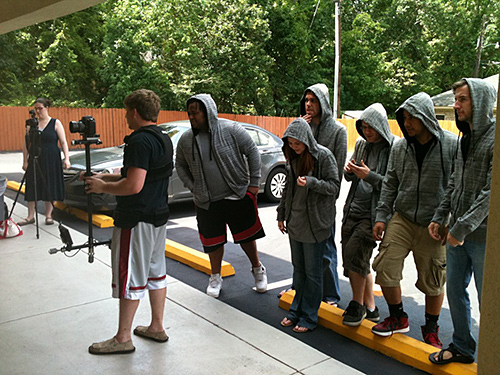 Sometimes you have to work with a lot of people
On the set of any video project, the cinematographer must be willing and capable of working with a large amount of individuals. Larger, well-financed sets will provide a DP with grips and gaffers, workers who specialize in setting up lights, stands, and electrical wiring. The DP's ability to do his job depends on his communication skills. He must verbally explain the purpose of the light and its placement to a litany of individuals working under him. A DP setting up each light manually on a large set is simply out of the question.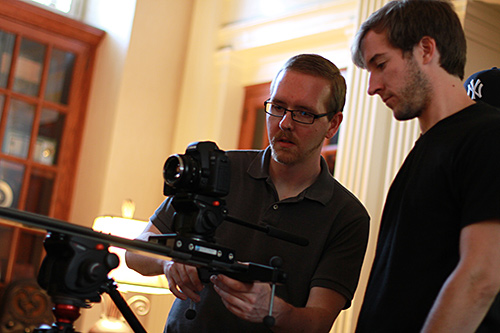 DP, Douglas Dillingham, at work
On a short or indie film set the DP will probably get his hands dirty due to a lack of extra workers. Even in this situation, the DP must be able to take direction from the director and get along with everyone in close proximity. A photographer can work as a lone wolf. Such tactics as a DP will make people dislike you.
3. Learn to Operate A Variety of Cameras and Camcorders
As photographers, when we talk cameras, our deliberations usually stop after Canon and Nikon. In this era, most photographers work with DSLRs. This gives them the capability of recording high quality video alongside their photographs. The DSLR revolution has allowed filmmakers, photographers, storytellers, and non-creative people the ability to capture high definition video for a small amount of money. Indie films and parts of large budget feature films are being shot with the DSLR family. This is an amazing breakthrough, but disguises an underlying problem for the photographer transitioning to cinematography.
The majority of your work will be shot on whatever is handy, usually a DSLR. If you begin to pursue cinematography as a career you will come across cameras which are vastly different. As a DP, I've worked with the Sony EX1, Sony EX3, HDV, JVC, FS100, Panasonic HDC, and Sony F3. There are still a myriad of cameras I haven't used but that's not the point. A cinematographer or DP must be open to learning new technology. None of these cameras remotely resemble a DSLR's control or interface. This is not to say someone will always choose one of these cameras over a DSLR.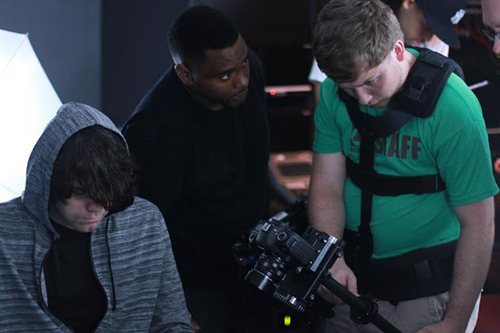 We used a Canon 5D MK II for the making of our film
You should be prepared or at least willing to learn about a new type of camera. Walking outside of your DSLR comfort zone and learning other cameras will be unbelievably beneficial.
4. You Cannot Be Scared of Lighting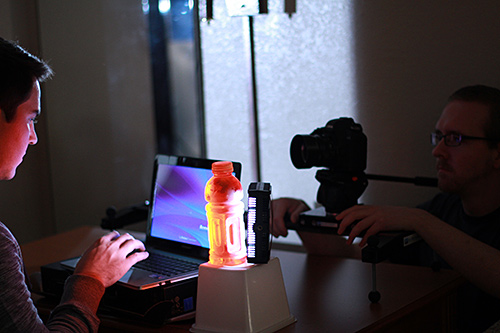 We lit the actor with the combination of a small LED light shining through the red tint of a Gatorade bottle
I have a few photographer friends who are irrationally afraid of shooting anything where their main light source isn't natural or available light. They avoid interior settings where there aren't a lot of windows. The majority of their shoots are somewhere outside in a field or public area. They never shoot anything past sunset. The idea of buying off-camera light kit is frightening. This is the kind of mentality that can be tolerated in photography, but will leave you destitute in film.
A cinematographer combines controlling the camera and lighting a scene. A director of photography doesn't necessarily have to understand the camera being used. In many instances a camera operator is present to handle the movement of the camera. If you strip down the job of DP to its most bare form, in all instances, he must be able to light a room using natural, available, and/or artificial light.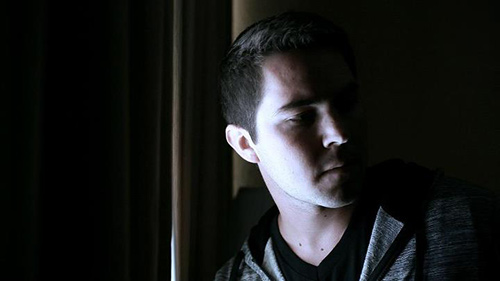 We used the natural light available from a small opening the curtains to achieve the look of this shot
There will be an abundance of instances where the available light in a setting will be of little use. You will have to rely on your ability to use artificial lights to achieve the desired look of the director. If you're scared of sculpting light on a regular basis, cinematography isn't for you.
Thank you for your time. Hopefully my tips will help you become a dual threat. If you'd like to see some of the behind the scenes work we did you can watch this as well.
Comments
Older Comments
@Howard - you can subscribe to the RSS feed using the RSS icon in the top right of the page.
Nice article, I'll pass this, and the site on to my media students; is there a way to subscribe to this site? Thanks for any suggestions.

Howard
Bunker Hill Community College,Boston U
SAE Mexico
As a director, I would never work with a cinematographer who has not worked with film more extensively than digital. Why? Because of purpose. Too not understand the tools available and what their purpose is, is to not understand film making as a whole. "Why", is a question often looked over, as in this article.

Moving shots, tracking, dollying, etc are all fine and good, but if there is no reason for the shot, you're trying to cover bad story and lack of understanding composition, with photographic "style".

Most digital photographers and videographers rely heavily on post-work rather than what is in front of the camera, and in the lens. A reason to 'color correct' or 'color grade', should at first be a reason, and should never be relied upon. This trait alone separates the professional from the amateur. Any real artist can spot these differences in a heart beat and shun away from them.

All the best photographers not only understand composition and perspective, but they understand that these core important aspects are what separate the professional from the amateur. Not the tools in the tool box. In regards cinematography, you must understand the principles, and history of narrative structure before you try to break them, not simply immediate.