Competition: Want to Make a Music Video for Queen?
By Kirsty Cooper | 18-Jul-2011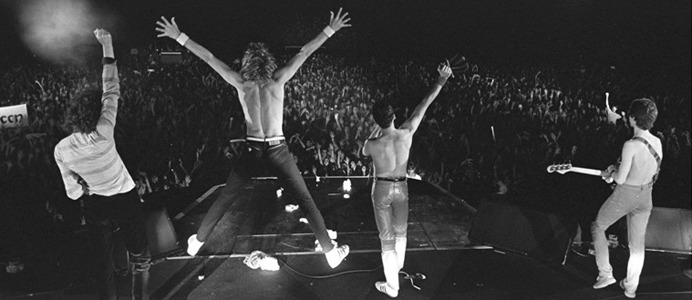 The 40th anniversary celebrations continue for legendary rock band Queen as they invite talented videographers and film makers to create an original music video for their 1977 classic track "Sheer Heart Attack".
This will be the first original Queen video since "Under Pressure" in 1999 – so they will be looking for really fresh and innovative ideas, reminiscent of Queen's past iconic videos as well as quality of editing - both from a music and visual aspect - and a balanced inclusion of all the band members. After the huge success of the "Design a t-shirt for Queen" competition - where artists were given the opportunity to design a t-shirt bearing the band's famous logo – Queen are really excited to be working once more with Talenthouse on what promises to be one of the most challenging, yet potentially life-changing projects yet for the creative communities!

The winning entry will be featured on Queen's official site, and across their social media channels including their Facebook and YouTube pages. There's also $1,500 up for grabs along with enviable Queen goodies and the massive kudos that making a video for the legendary band will bring them!

Queen will once again be heavily involved in the project. All submitted videos will be shortlisted down to a top 100. Finalists will then be reviewed and judged by both Brian May and Roger Taylor, along with special guest judge David Mallet.
"The song is a full on rocker and was a blast to play live, so myself and Brian are really looking forward to seeing what you guys come up with. We have also roped in our old friend and video director David Mallet to help judge the entries, so the decision-making could get interesting!" says Roger Taylor.

The deadline for submissions is July 27th, 2011 with first round of voting taking place between July 28th and August 3rd, 20011. Finalist announcements will be made on August 11th, 2011.

For further information and details of how to enter please visit tlnt.at/videoforqueen.
Comments