Beware of scam 'film festivals' and dubious competitions.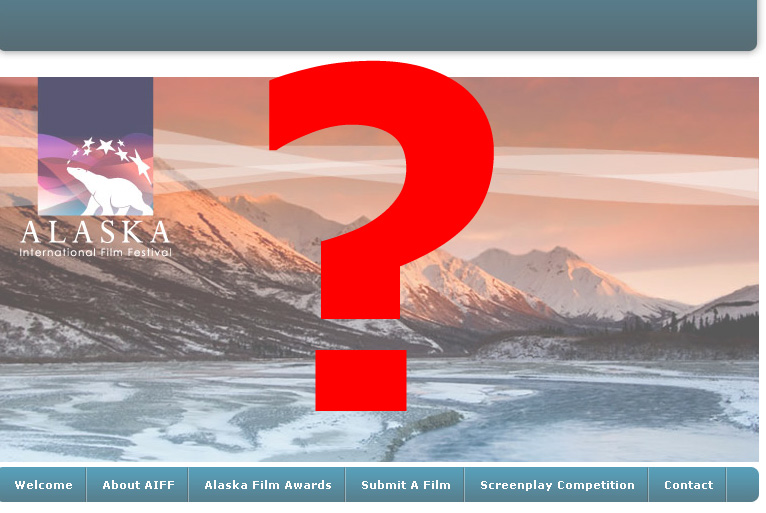 It seems that every man and his dog wants to run a film festival these days, which is fantastic in many ways, not least because it provides an even greater number of outlets for filmmakers to get their work in front of an audience. Sadly the multitude of scammers and ethics-lite opportunists who prowl the Internet also seem to have their dirty fingers in the film festival scene as well.
A timely reminder came this week when the "Alaska International Film Festival" was brought to our attention (not to be confused with the ANCHORAGE International Film Festival, a long-standing legitimate event). Visit the site - www.alaskafilmfestival.com (not hyperlinked so as not to give undue Google link mojo to this site) - and on the surface you see a clean, professional looking site for what sounds like a prestigious event and is fact described as such by the site content. But before you dive into the submissions area, it's worth noting a few red flags...

Firstly, the site content reads like this event has been around for years, and indeed, the About Us page says as much. But on closer examination, there is nothing to indicate any previous years' activities, nor can you find any mention of it in Google. Indeed, when we contacted the 'festival' to ask for a list of last year's winners, the respondent told us that this was in fact their inaugural year, despite the About Us page saying, "Each year, awards are presented to independent filmmakers from around the globe..."

But that's not the only tell-tale sign. Astute site visitors, and let's face it, most of us only skim-read web pages half the time, will notice that the submission page mentions that the festival holds no public screenings and that 'prize-winners' will be notified by email. No public screenings? The whole point of a film festival is to screen films for the public. If this is purely a film competition, why go to the trouble of even calling it a festival, talking about its pedigree, or providing travel advice for visiting Alaska?

Other things which don't wash:
The site's domain is registered to an Alaskan address, which is fine, but the telephone number associated with that address has a Kentucky prefix.
Extra long 'call for entries' time. This festival takes place... well, it doesn't actually say. However, the festival is currently accepting submissions, around a year in advance of the winners being announced on 15 July 2010. Most film festivals only open their calls for entry a few months ahead, so why the extra long lead time? Sure, festivals like Sundance open their submissions six months ahead, but they also have many thousand entries to wade through.
The site uses a very similar graphic design to that of the Anchorage International Film Festival. Could that be deliberate?
High fees. By itself not an indicator of a scam, but obscure festivals which charge high submission fees should be viewed with healthy scepticism.
Lack of sponsors. Again, not in itself an indication of a scam site, as many festivals are not lucky enough to have sponsors, but given that the site describes the festival as, "Alaska's leading independent film competition" you would think that even some local sponsors would be onboard.
Travel content is lifted directly from travelalaska.com. Indeed, grab a sentence, do a Google search and find identical content on that 87 other sites in Google's index. Plagiarism isn't itself indication of a scam, but again, given the site's insistence that the 'festival' is Alaska's premiere independent film event, you'd think they could at least write their own travel advice.
Total lack of transparency in its awards process. There is no mention of the judging criteria for prizes or who the judges are. This, combined with a vague statement on the site, "Awards will be announced publicly... by Internet and international press release", presents a glaring lack of transparency and accountability for the competition.
Lack of any mention of screening venues. Oh, but wait... this 'festival' doesn't screen films!

Is the Alaska International Film Festival a scam?

All of these factors combined lead us to form the opinion that the Alaska International Film Festival site is most likely designed to mislead filmmakers into submitting their films for an opaque and unaccountable competition (which may or may not actually provide awards) primarily to make money via submission fees. Thus you could classify it as a 'scam'. Either way, we'd recommend thinking twice before submitting to this event.

Sadly, this is not the only instance of filmmakers being taken for a ride over festival submissions, so the moral of the story is to do your due diligence before handing over your cash. Perhaps most worrying is that the Alaska International Film Festival is using Withoutabox.com to manage its submissions. Given that a large number of filmmakers now rely on that service for festival submissions, we would have hoped that Withoutabox would have a more active policy to validate the genuineness of events using its systems. We've contacted Withoutabox to ask why, but had no response.

Update 10-Oct-2009 - surprise surprise, the copy on the About Us page has been changed slightly after this article was published in an attempt to address some of the criticisms in this post.

Update 23-Nov-2009: Steve Aufrecht, an unofficial blogger for the real Anchorage International Film Festival, has put together a post with some additional information, including photos of the mail centre "suite" the Alaska International Film Festival'is using to take submissions from filmmakers. View the blog post.

Update 10-Dec-2009: Be wary of the 'California Film Awards', attached to the 'La Jolla Film Festival' (lajollafilmfestival.com). This site shows all the hallmarks of being from the same operators.

Update 17-Mar-2010: This article has been tweaked to help clarify that the content represents an opinion based on evidence available at the time of writing.